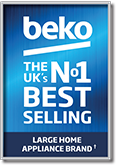 Built-In Ovens

Helpful features in our Built-In Ovens
Perfect hot air distribution, meals cooked to perfection
Our ovens with AeroPerfect™ technology take inspiration from aerodynamics to create a constant stream of airflow in the oven, minimising temperature fluctuation for food that cooks quickly and perfectly evenly, every time.
Our built-in ovens turn grease to ash at the touch of a button
We understand how frustrating it is to spend hours scrubbing your oven clean. That's why our ovens with the Pyrolytic self-cleaning programme clean themselves at the touch of a button. The oven heats up to a super-hot 480°C turning grease to ash, and then all you have to do is use a damp cloth to wipe clean.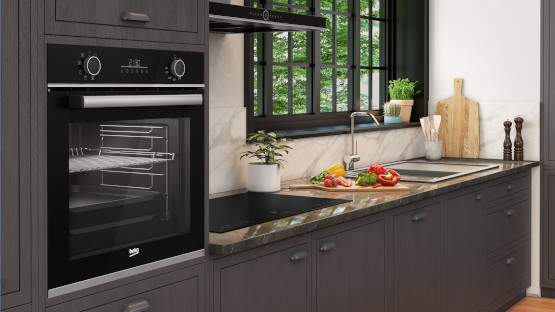 Modern and stylish built-in ovens
Aside from excellent cooking performance, we know that a stylish built-in oven is important to you too. Most of our ovens come with touch control displays which are really easy-to-use and make your kitchen look modern too.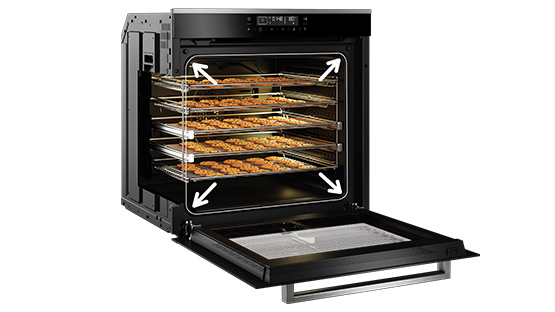 Large capacity ovens cook more at once
We understand how busy your home life can get and how important it is to be able to cook more food in one go. Our large capacity ovens come in a huge 82 litres, while only taking up the same amount of space as a standard oven.
Cook two different dishes at the same time, with our Split&Cook built-in Oven
If you're after a double oven but don't have the space, our Split&Cook oven not only offers two ovens in one, it also delivers high performance. This technology splits the oven in two, allowing you to cook two different dishes at the same time, at two different temperatures, without the mixing of any flavours. And, if you wanted to, you could remove the divider and take advantage of the huge capacity too.











Beko Built-in Ovens Reviews
We welcome customer reviews for all our built-in ovens. We work alongside review collection platform Reevoo to gather your honest opinions and share genuine independent reviews of our products.
Frequently Asked Questions: Ovens
Browse Built-in Ovens
†Source Euromonitor International Limited; Consumer Appliances 2020 ed, as per major appliances definition, retail volume sales in units, 2019 data