How do I replace the water filter in my Beko Refrigerator?
This guide is specifically for all Beko Fridge Freezer and American Style Fridge Freezer models that have a water dispenser with a plumbed water supply.
To make sure your drinking water is always clean, fresh and tasting its best, we recommend you change the water filter in your fridge every 6 months. All you have to do is watch out for this symbol

to light up on your display, alerting you to change the filter. To help you with this, we've put together this easy step-by-step guide on how to change your water filter:
1.Shut off the water supply.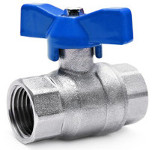 2. Take a moment to note the flow direction on the filter.

3. To remove the water tubes from the filter, first remove the red clip. Next press down and hold the blue shoulder surrounding the tube. Then pull the tube away from the filter to release.
Note: A small amount of water will come out from these connections once separated.

4. Insert the water tubes into each end of the new water filter.
Please Note: When you are inserting the water tubes, you should feel them move inwards in 2 steps. The first step stabilises the tube in the filter and the second acts as the seal. Roughly 18mm of the water tubes will be inserted into the filter.
5. Refit the red clips under the shoulders to secure the tube.

6.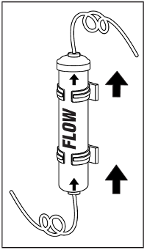 Clip the water filter back into the wall brackets.
7. Turn on the water supply and check for any leaks. If you notice a leak, repeat steps 1-5. If the leak persists, discontinue use and contact Beko customer service on 0345 6004911.

†Source Euromonitor International Limited; Consumer Appliances 2019 ed, as per major appliances definition, retail volume sales in units, 2018 data