Cookers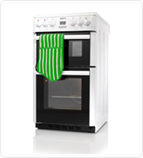 Where can I obtain the cable to install my electric cooker?

Safety legislation dictates that our electric cookers must be installed by a qualified electrician who should supply the correct size cable and carry out the necessary safety tests and for this reason the product is supplied without cable.

How do I set the clock on my cooker?

Switch off at the mains and leave for at least 30mins to allow memory to clear. Then follow the set up procedure outlined in the user instructions.

Please note; the main oven will not work without the clock set. If the manual can not be found please click here to locate your manual or call Customer Services on 0845-600-4911

After installation parts of my cooker are not working, why is this?

Was the product installed by a qualified electrician/ Gas Safety Registered Engineer? After correct installation has been verified & if problem persists please refer to our Customer Service department on 0845-600-4911.

What can I use to clean my cooker hotplates?

The cleaning of sealed hotplates should be done when they are cold. Wipe the hotplates with a little domestic non-scratch cleaning cream following the circular grooved pattern on the hotplate. Afterwards, wipe over with a damp clean cloth, making sure that all the cleaner has been removed. Then dry by switching on for a few minutes. Apply a thin coat of cooking oil from time to time to provide a protective coating.

What types of pans can I use on my ceramic hob?

Optimum efficiency is achieved by using pans that match the diameters of the elements. If the pan is too small energy is wasted. Do not use pots that have concave or convex bottoms. Do not use aluminium-bottomed pots. Use steel or heat-resistant glass pots. Do not use pots made from Boron glass or Pyrex, which are generally oven type containers.

Can my gas cooker be converted to LPG?

A large range of our cookers can be converted to LPG please contact Customer on 0845-600-4911 to confirm & receive your conversion kit FREE of charge. Must be fitted by a Gas Safety Registered Engineer/ qualified electrician.

Are the ceramic hobs on my cooker designed to switch on and off?

Yes. It is a feature to maximise energy efficiency while maintaining a steady cooking temperature.

Where is the serial number on my product?

Each product range has a fixed location for the rating plate which contains the Model and Serial Number information. When viewed from the front: On single oven in the warmer compartment. On double oven on the right hand side below main door.
---