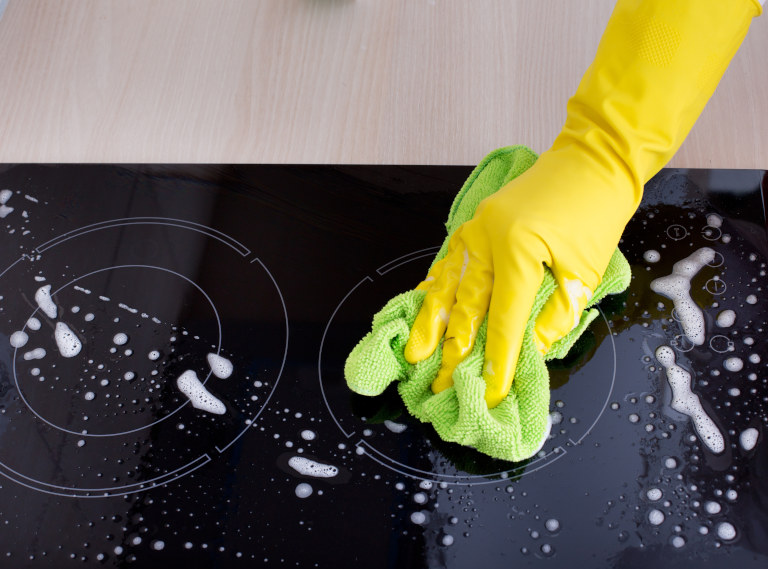 It is advisable to clean your hob on a regular basis. Whilst the frequency of your cleaning schedule will depend on how often you use your appliance, we recommend cleaning your built-in ceramic hob thoroughly after every use. Cleaning your hob regularly can help prolong its lifespan, preventing problems from occurring and keeping your food tasting great. What's more, by cleaning your hob regularly, you can eliminate the build-up grease, bacteria and odours, whilst also preventing spillages from drying up and becoming difficult to clean.
For general hob cleaning guidance, please read the below instructions or, for a visual guide, watch the attached video.
Before cleaning your hob, disconnect the product from the mains supply. Ensure that the hob is completely cool before cleaning.
Clean the hob. No special cleaning agents are required for cleaning the product. Use warm water with washing liquid and use a soft cloth or sponge to clean the product.
Wipe the hob dry using a clean cloth.
Please note, you should always avoid using abrasive cleaning products on a ceramic hob. We would recommend using washing up liquid on a soft cloth or for more stubborn marks use a specific ceramic hob cleaning product for best results. For burnt-on residue, use a ceramic hob scraper.
For more detailed information about which cleaning products are suitable for your hob, please refer to your instruction manual. Alternatively, if you own an induction or gas hob and are looking for additional information, please read our detailed how to guide that explains how to clean your hob.