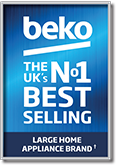 Washing Machines
Our range of washing machines is designed to save energy, water, and time while handling your laundry with care. Offering freestanding and integrated models with capacities ranging from a small 5kg to a large 12kg, as well as six colour options, there's a Beko washing machine for any home. All the new washing machines in our range come with the Daily Quick programme, that can wash a full load of laundry, up to a capacity of 12kg, in just 28* minutes.
Frequently Asked Questions: Washing Machines












About Beko's Range Of Washing Machines
Energy efficiency can save you money on bills, as well as protecting the environment, and Beko's washing machines have all been designed with this in mind. The range includes 'A++' rated models, which offer a 50% energy saving compared to 'A' rated models. In fact, if you choose an A++ rated EcoSmart washing machine, you save around £20 a year compared to an A rated machine – enough for 92 washes worth of washing powder*. As well as saving energy and money, Beko's washing machines also save water and time too! Machines with high spin speeds of up to 1600rpm mean you'll use less water on each wash, as well as ensuring your clothes are drier at the end of the cycle. Cover against the surprise costs of accidental damage and breakdown with our washing machine extended warranty.
*Based on a sales weighted average annual saving between all the EcoSmart Beko products within an appliance category versus an A-rated model which was the most bought in 2012. Using an average electricity price of 13.52p/kWh, EU Energy Label data, and includes heat replacement effect. Valid for 2014.

Beko Washing Machines Reviews
We welcome customer reviews for all our washing machines. We work alongside review collection platform Reevoo to gather your honest opinions and share genuine independent reviews of our products.
†Source Euromonitor International Limited; Consumer Appliances 2019 ed, as per major appliances definition, retail volume sales in units, 2018 data