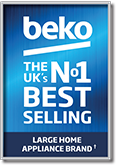 Washing Machines
Our washing machines are designed to save energy, water, and care for your laundry. With freestanding and integrated models with capacities ranging from 5kg to 12kg, there's a Beko washing machine for any home. Clever technology like AquaTech gives you faster yet gentler washes too. All the new washing machines in our range come with the Daily Quick programme, that can wash a full load of laundry in just 28* minutes.












About Beko's Range Of Washing Machines
Beko's washing machines are designed to save you time, energy and money on your bills without sacrificing the care of your laundry. Machines with high spin speeds of up to 1600rpm mean you'll use less water on each wash, as well as ensuring your clothes are drier at the end of the cycle to cut down drying time. Clever technology like AquaTech, use the gentle power of water to replace harsh drum movements, giving you up to 50% faster but still, up to 50% gentler washes. SteamCure washing machines release steam into the drum to reduce creases and save on ironing time. Cover against the surprise costs of accidental damage and breakdown with our washing machine extended warranty.
Beko Washing Machines Reviews
We welcome customer reviews for all our washing machines. We work alongside review collection platform Reevoo to gather your honest opinions and share genuine independent reviews of our products.
Frequently Asked Questions: Washing Machines
†Source Euromonitor International Limited; Consumer Appliances 2020 ed, as per major appliances definition, retail volume sales in units, 2019 data