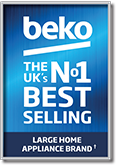 Freestanding Washing Machines
Beko's freestanding washing machines are easy to use and energy-efficient, with several of our models having the capacity to wash up to 12kg of laundry. With special features including a time-delay function, a fast wash option for those in a hurry and a child safety lock to prevent little ones from tampering with the wash cycle, there is a washing machine to suit you and your family.
Not Found
No products matching your criteria were found.
†Source Euromonitor International Limited; Consumer Appliances 2019 ed, as per major appliances definition, retail volume sales in units, 2018 data