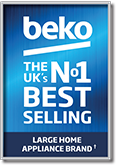 HEPA Filter Vacuum Cleaners
The air in our homes carries dust particles and allergens that can trigger allergic reactions or asthma. HEPA filter vacuum cleaners help to improve air quality by trapping bacteria, viruses and mould as well as pollen and smaller particles of dust, soil and debris. A vacuum cleaner with a HEPA filter consists of an outer filter that acts like a sieve catching large particles of dirt and dust and an inner glass fibre filter that traps tiny particles and deposits them inside the dust bin.








Create a cleaner, healthier environment with a HEPA vacuum filter such as Beko's DustSeal™ HEPA12 and HEPA13 Filters, which filter out at least 99.98% of dust and dirt and 100% of dust collected from hard floors. The HEPA filter makes sure that even the smallest particles of dust aren't released back into the air of your home, a particularly important feature for people with allergies or asthma.
†Source Euromonitor International Limited; Consumer Appliances 2019 ed, as per major appliances definition, retail volume sales in units, 2018 data