10 Simple Reasons Why You Should Buy a Dishwasher
Owning a dishwasher can bring with it many benefits for you and your family. Whether you're an avid cook and don't fancy washing up after preparing meals or run a busy family and could do with a hand around the house, a dishwasher is the perfect time saving solution.
---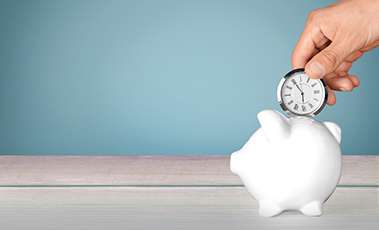 1. You'll free up time
Life is busy and fast-paced enough without spending time washing up pots and pans. Did you know that 60 minutes of the day1 is spent washing up after meals, spending just 9 minutes loading a dishwasher can help you save 51 minutes of your well-earned time. Some dishwashers even offer a variety of timed programmes from 30 minute to 120 min to suit your schedule. Simply load the dishwasher up in 9 minutes and go and watch that box set you've been meaning to binge on!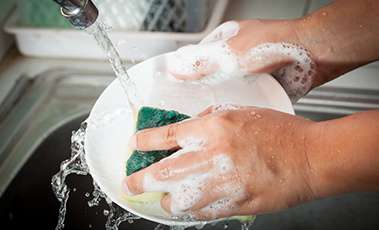 2. It'll save you water and energy
Did you know, washing up by hand might feel like it saves water but according to a recent study, using a dishwasher actually reduced water consumption by a whopping 74%.2 That's a lot of water!.
And it's doesn't stop there. In a bid to help cut down energy consumption, some models such as the DSFN6839 consume significantly less water, as little as 6 litres per cycle. What's more, some of our models feature a half load programme, reducing energy and water consumption by 10-25%. So you're not just saving time, you're saving energy as well.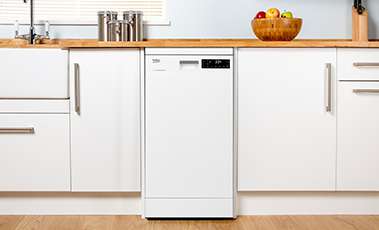 3. Good use of limited space
Having trouble finding space for a dishwasher? A slimline dishwasher is a great solution for maximising that dream kitchen design and not having to worry about pots and dishes pilling up after you cook.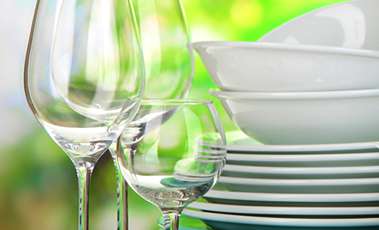 4. Cleaner crockery
Not only does hand washing take more time and energy than using a dishwasher the cleaning results aren't often as crisp. With special technology such a Steam Gloss, crockery will appear cleaner, brighter, and shinier.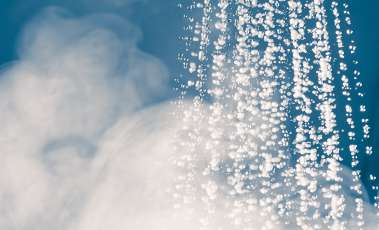 5. Gets rid of germs
Did you know, In order to clean dishes properly, the water needs to be above 60°? When washing up by hand, water typically reaches 27.5°C, that's just not hot enough.
The water inside a dishwasher is heated up to 75°C, so not only will your dishes be impeccably clean, they'll be cleaned hygienically too.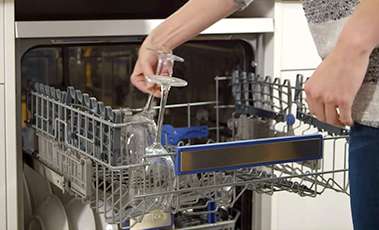 6. It's easier
A dishwasher is the type of appliance that once bought, you can't imagine living without. Not only does it take less time to load and wash a full load of crockery, it's much easier to load and empty than standing over the sink for hours a week!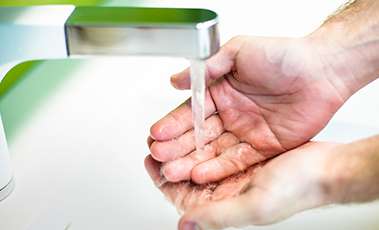 7. It's kinder to your hands
Think of those hands you use every day! If saving energy, water, and having cleaner crockery isn't enough to contend with, not having to deal with harsh chemicals and scrubbing stubborn plates is much kinder for your hands.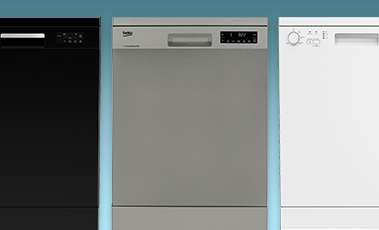 8. There's a good range to choose from
Gone are the days where dishwashers all had the same design. Because kitchens are designed and decorated differently, our dishwashers are too.
Whether you're looking for a freestanding or built in dishwasher to fit in neatly with your kitchen's décor or a full size model to make more of a statement, there's a dishwasher out there to suit your kitchen.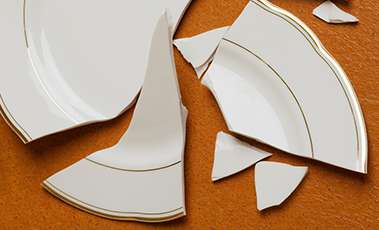 9. It's safer
A dishwasher makes it safer to wash up fragile crockery such as plates and glasses which could often be dropped and smashed when handled with soapy hands. This means there are fewer breakages and is a lot safer than dealing with hidden knives left in washing up bowls.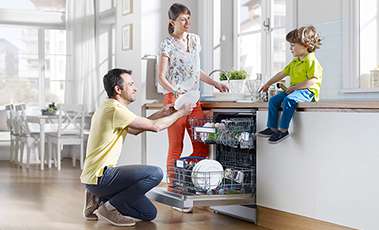 10. No more arguments!
To avoid any "who's doing the dishes?" disagreements, a dishwasher can help make a commonly argued chore easier, more efficient, and less of a chore, so you won't have to argue over who will be left washing the dishes ever again
1 Intertek UK lab study, when comparing avg. time washing by hand (60mins) with avg. time loading dishwasher (9 mins)
2 When comparing 49.2 avg. litre water consumption (hand washing) with 13 litre avg. water consumption (using a dishwasher).