Beko Oven Technologies: Split&Cook
Whether it's sitting down with the family at the end of the school day or grabbing some well-deserved time with your other half after a long day at work, family meal times are at the heart of everyday life.
But with a household of taste buds to please, it can be difficult to decide on a single dish that would satisfy all. That's why we created Split&Cook technology so you could cook two dishes at the same time, in the same oven, and in no time at all, providing the ultimate in flexible cooking.
---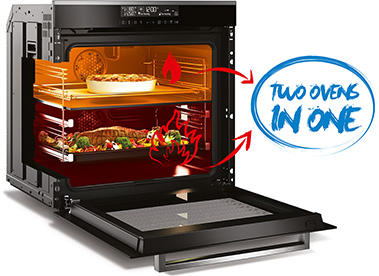 2 ovens in one
The beauty of an oven with Split&Cook technology is that the oven cavity can be split in half, letting you use the top half, bottom half, or the whole oven at any given time – depending on which ever dish you decide to cook.

With 10 special, intelligent and automatic cooking programmes for the twin mode and more than 70 automatic cooking programmes for the bottom cavity and single mode, it's super easy to use. Better still, on nights when you're cooking just one supper, using the bottom half of the oven only could reduce your energy consumption by 40%.
Cook two dishes at once
The technology enables you to cook two completely different dishes separately, at up to an 80°C difference between the top and bottom ovens. Preparing two savoury dishes as part of a Sunday roast? No problem. Split&Cook is a time-saving solution to cut cooking time. Looking to cook one savoury dish at the same time as a sweet dish? The oven can cook the two separate dishes, at two different temperatures and at the same time. But don't worry if you're not particularly keen on a meat-flavoured batch of brownies. The oven capacity may be split in half but there is no blurring of scent or flavour between the two dishes in the oven – so your savoury dish can stay savoury, and your dessert can stay sweet!
And what's more, the oven doesn't take long to heat up, so you won't have to hang around and wait!
How would you feel about cooking salmon and baking a pavlova in your oven at the same time? Because we're so confident about our ovens cooking two polar dishes at the same time, without any blurring of flavour or scent, we asked Helen from Fuss Free Flavours to create two recipes exclusively for Beko which could be made at the same time, in one oven.
---
Baked Salmon and Polenta
This quick and easy Mediterranean inspired salmon dish can be baked in an oven on a bed of roast peppers and tomatoes and served on a bed of creamy polenta.
Ingredients (Serves 2)
For the Salmon:
1 red pepper thinly sliced
1 clove garlic – peeled and sliced
1 tsp olive oil
1 stem of vine tomatoes
2 salmon fillets
For the Polenta:
100g polenta
200ml milk
200ml vegetable stock
20g butter
Method
For the Salmon:
Heat the oven to 190°C, place the pepper, garlic and olive oil into an oven proof dish and shake to coat the peppers with oil.
Add the tomatoes and a sprinkling of pepper and salt. Roast for 12 minutes.
After 12 minutes add the salmon to the dish on top of the peppers, season and roast for a further 12 – 15 minutes until cooked through.
For the Polenta:
Whilst the vegetables and salmon are cooking, place the polenta, milk and stock into a pan and bring to a gentle simmer, stirring all the time and the mixture should slowly thicken.
After about 15 minutes, turn the heat right down; put a lid on the pan and leave to cook, stirring from time to time, and add a little more water if the polenta seems too thick.
Season with pepper and salt and add the butter, stirring until it is melted just before serving.
Serve the salmon and vegetables on a bed of polenta, with a slice of lemon and some green beans.
---
Raspberry Syllabub Pavlova
"Pavlova and syllabub are my favourite puddings, and here they are combined into one joyous luxury, but easy to make dessert. A crisp meringue shell, with the classic marshmallow interior, filled with a cloud of raspberry syllabub is ideal after a big meal, and will always impress."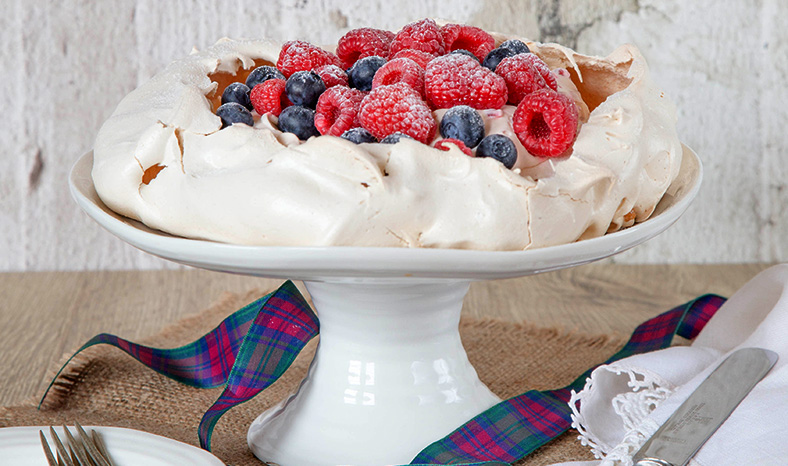 Ingredients (Serves 2)
For the Pavlova:
3 medium egg whites
150g golden caster sugar (about 1.5x the weight of the egg whites)
To Serve:
Extra Raspberries, Blueberries
1 tsp icing sugar
For the Syllabub:
170ml double cream
6 dsp tsp icing sugar
3 tbsp white wine, or elderflower cordial
60g raspberries – lightly crushed

Method
For the Pavlova:
Using a plate as a guide draw an 8" / 20cm circle on a piece of paper, and place on a baking tray, under a sheet of baking paper or silicon mat.
With an electric mixer whisk the egg whites until frothy and then add the sugar a spoon at a time whisking between each spoonful. Carry on whisking until the mixture is smooth, beige, glossy and holds a peak.
Dollop out the mixture into the middle of your template then gently spread out into a circle, making a crater with sides higher than the centre.
Place in an oven pre heated to GM2 / 300F / 150°C, immediately turn the oven down to GM1 / 275F / 140°C. Cook for about 50 – 60 mins. When the meringue is hard and sounds hollow when lightly tapped, turn the oven off and allow to cool inside the oven (or if using the oven for something else, allow to cook for another 10 minutes, then remove from the oven).
For the Syllabub:
In a large bowl whisk the cream, sugar & wine or cordial together until thickened and holding a soft peak, fold in the crushed raspberries.
Cover and keep in the fridge for a few hours before using.
To Serve:
Place the Pavlova on a plate of cake stand, fill with the raspberry syllabub, arrange the remaining fruit on top, and decorate with a dusting of icing sugar. Serve immediately.
---
Everyday mealtimes won't be complicated anymore using an oven with Split&Cook Technology. From separately cooking meat and potato elements of your dinner at the same time to cooking a classic pavlova at the same time as your healthy fish supper, a Split&Cook oven is the ultimate time-saving solution. What would you cook at the same time in a Split&Cook oven? Let us know on our Facebook page.