The Ultimate Leftover Challenge
We've all been in the position where we've purchased ingredients for a tasty dinner only to cook something else at the last minute or go out for dinner following last-minute plans. A week later, we find those same ingredients at the back of our fridge forgotten, untouched and nowhere near as fresh. Unfortunately, they often end up wasted and in the bin.
But with 7 million tonnes of food and drink being wasted each year in the UK alone, we wanted to do something constructive to help you to cut down on your everyday household food waste.
So, we challenged top food blogger Emily Leary of A Mummy Too to dive into the depths of her and her readers' American style fridge freezers to find the most common three leftover ingredients.
We then tasked her to come up with a bespoke recipe using all those forgotten foodstuffs – did you know that a Pasta alla Genovese makes a tasty dinner and could help you reduce food wastage?
Chances are the key ingredients could be at the back of your fridge shelves just this moment too!
---
Ingredients
400g dried tagliatelle
150g green pesto
3 tbsp olive oil
300g new potatoes, diced
100g fine green beans, halved
100g fresh peas
100g baby broccoli
100ml cream
salt and pepper, to taste
Parmesan to garnish
Sprigs of basil to garnish
Instructions
Cook the pasta in a large pan of boiling salted water for about 10 minutes until al dente.
Heat the oil in a frying pan over a low heat. Add the diced potatoes and cook for 2-3 minutes until they start to turn golden. Taste one to make sure they're cooked through, then set aside.
Meanwhile, in a separate pan, cook the beans, peas and broccoli in boiling water for 3-5 minutes until just cooked. Drain.
Drain the pasta and return to the pan.
Toss the pasta in the pesto and cream until evenly coated. Add the potatoes and green veg and toss again until well combined and heated through. Taste and season as needed.
Divide between bowls, season with a little more black pepper and top with a grating of parmesan and sprig of basil to serve.
Enjoy your dish made completely of those forgotten, leftover ingredients!
---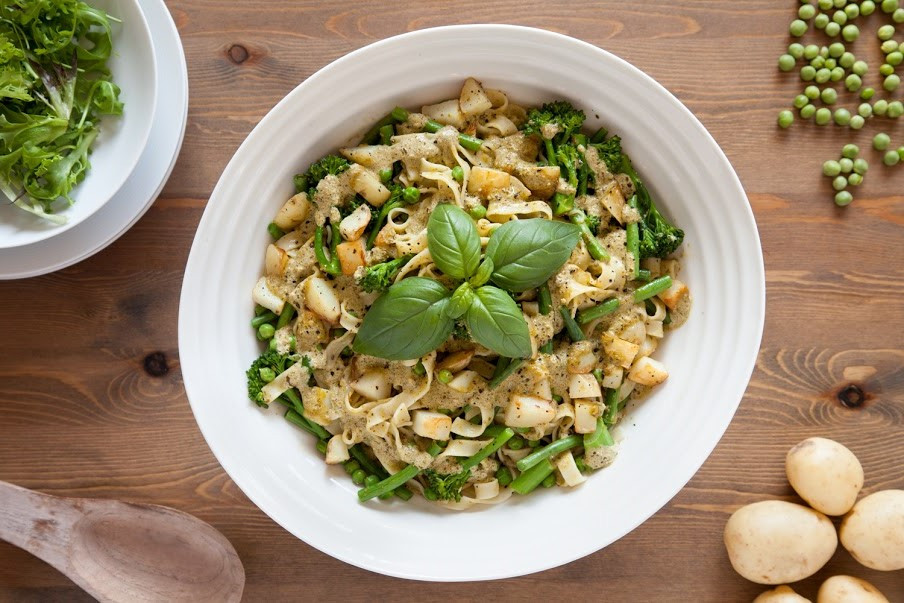 Just because some of the ingredients in your fridge have seen better days doesn't mean that they're no longer fit for eating. This Pasta alla Genovese dish is the ideal recipe for using up your common leftover ingredients so you don't have to feel bad about wasting unused food again! Have any other favourite 'go to' recipes to use up those forgotten foodstuffs? Let us know on our Facebook page or on Twitter.