Win with Beko and the FA Cup
Show us your football flair and you could win exclusive prizes with Beko and the FA Cup.
Whether you play football in a team, at school or with your family in the back garden, we want to see your keepy-uppy skills.
Send us a video of you or your team displaying your keepy-uppy talents and you could be on your way to Wembley to watch the FA Cup final in May. We're looking for the funnest, most unique or impressive videos, so let your imagination run wild.
Other prizes up for grabs include brand new team kits, a Beko American Style Fridge Freezer and an exclusive training day at the home of English Football, St George's Park.
To find out more about the competition, submit your entry and see exclusive videos from keepy-uppy world record holder Dan Magness, visit our Beko Keepy-Uppy Challenge page, or check out the Beko Facebook page.
The competition closes on April 21, 2014, so don't miss out.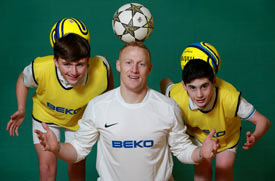 ---
Bringing families together
You may not know but BEKO has a strong heritage in sports and football sponsorship. We know the value of sport in family life, so we're particularly thrilled to be partners with The FA Cup.

---
The partnership means we can bring the message of The FA Cup competition – including its reputation for being inclusive, allowing teams of all standards to compete – into thousands of homes across the country. We want to help jointly inspire the next generation of football fans, their families and their local community, too.
Jamie Redknapp is our ambassador for this sponsorship. Jamie is an ex-professional footballer and Sky Sports TV pundit. He is also a husband and father to two young sons and he'll help spread the message that this world-renowned competition brings families together – just like our products do!
We launched our sponsorship with a local competition run through the leading schools newspaper, First News. Schools across the country had the chance to win a visit from The FA Cup, as well as BEKO-branded football kits for their school team, coaching sessions with an FA legend and FA Cup Semi Final tickets. You can find out more on our Facebook page www.facebook.com/BekoGB
Our sponsorship of the FA Cup is a perfect opportunity to connect with you through the excitement of the competition. And to offer fantastic prizes and money can't buy experiences that will bring The FA Cup even closer to home.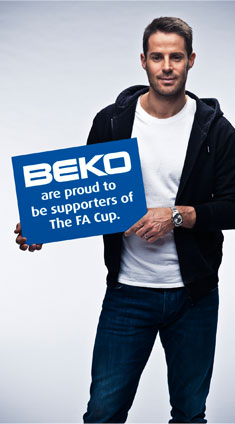 ---
St Georges Park
We recently hosted a day at the fantastic St Georges Park where Jamie Redknapp came along and coached 100 kids.
---
FA Cup School Tour
We toured schools with The FA Cup. Here's how we got on.
---