Our top tips to protect and clean trendy clothes
Are you looking to stand out in the latest clothing trends this summer? Dopamine dressing*, super sheer fabrics, purple hues, white suits (white suiting), and hypnotizing fabrics are but a few of the trending items we've seen taking off online on TikTok and Instagram. However, when investing in new, on-trend pieces, it's important to understand how best to care for specific fabrics, ensuring that they don't get ruined after the first pass through the washing machine.
Based on the volume of social media posts with related fashion hashtags, we've predicated the top fashion trends of 2022. And, with the help of a fashion and styling expert, we've pulled together our top tips to keep your favourite garments in perfect condition.
Top clothing trends of 2022
According to Instagram hashtags, these are some of the top clothing trends taking off right now: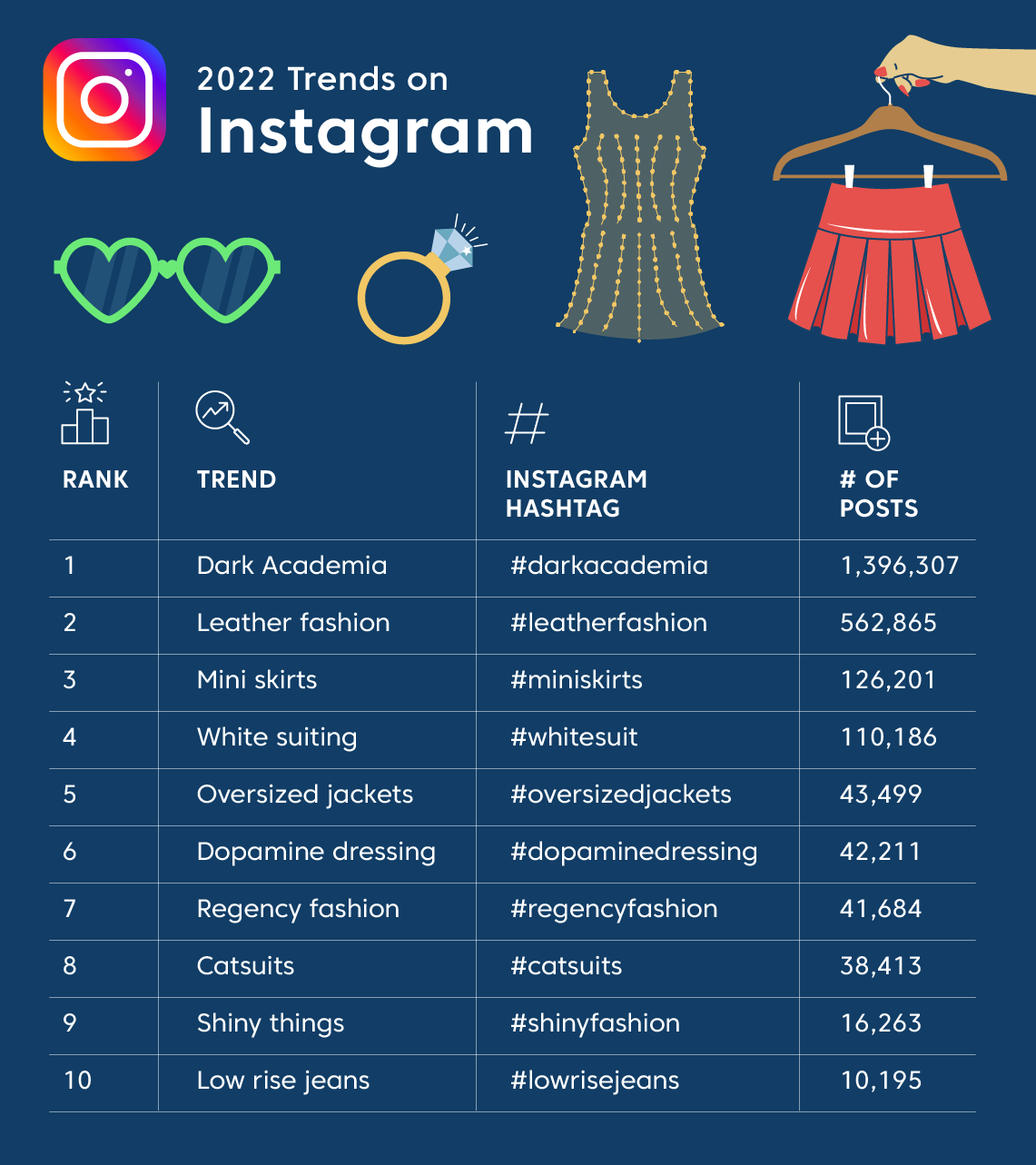 Where do Brits buy their clothing?
Dark Academia, which is an aesthetic devoted to all things scholarly, takes the top spot on Instagram – for this trend, think dark blazers, skirts, and plaid patterns.
Smooth jerseys, silky knits, and durable fabrics are also on the rise, thanks to new techniques. In addition to this, leather is one of the main fabrics that you'll see this summer, with popular pieces being enhanced with glitter, shine, and bold embellishments. Flowers will also play an essential role in fashion trends this year and encase such material like silk in large, graphic floral designs.
This summer, look out for bold colours, including purple, bold animal print, yellow, and pink. Popular pieces styled in these colourways will include classic tweed, tulle skirts/dresses, and power suits.
How to take care of trendy clothes
Incredibly, one in three people (29.3%) buy new clothes several times a month, with one in seven (14%) spending up to £250 monthly on new outfits. With so much being paid out towards new items of clothing, it's definitely worth learning how to take care of them to ensure we're not wasting our money!
We spoke to award-winning lifestyle writer and celebrity stylist Natalie Robinson, to discuss how to take care of new clothes, so you can continue to wear them long after the trends die down:
"Dopamine dressing is a fairly new trend, but floral designs and classic leather evolve every season, so it's important to carefully store pieces to improve their longevity. Never store leather in plastic, however, because it will rot without ventilation. Instead, opt for a dust bag or pillowcase. Also, be mindful of printed silks that are prone to bleeding. To protect your clothes, I recommend hand washing your silk pieces in cool water."
How to clean trending fabrics
When it comes to washing and care, different types of clothing have different requirements. To help protect your clothes, read our top tips below, or check out our laundry hacks blog for even more expert advice.
Top tips for washing delicate materials
Delicate clothing can easily snag, stretch, or lose its shape during washing, so make sure to:
Wash delicate clothing separately from the rest of your clothes.
Before washing, separate your clothes by type. For example, wash lace with other lace items, and cashmere with other cashmere garments. This is especially important when washing clothing with embellishments, such as sequins, as embellishments can snag other delicate clothes.
Before washing clothes, make sure to read the care label carefully and follow the specific wash instructions for each garment.
Turn items inside out.
Place delicate materials in a mesh bag to keep them safe inside the washing machine.
Use a gentle detergent.
To protect your clothes from bleeding and fading, set your wash onto a gentle cycle at a low temperature of around 30°C. Some washing machines will feature dedicated wash cycles that are designed to protect your garments. Beko's AquaTech® washing machines, for example, replace vigorous drum movements with the power of water, delivering washes that are up to 50% faster and 50% gentler[1].
Air dry and re-shape – most delicates will not be suitable for the tumble dryer.
[1] Independent laboratory testing – AquaTech® 5kg load at 40°C Cotton Cycle vs standard machine 5kg load at 40°C Cotton Cycle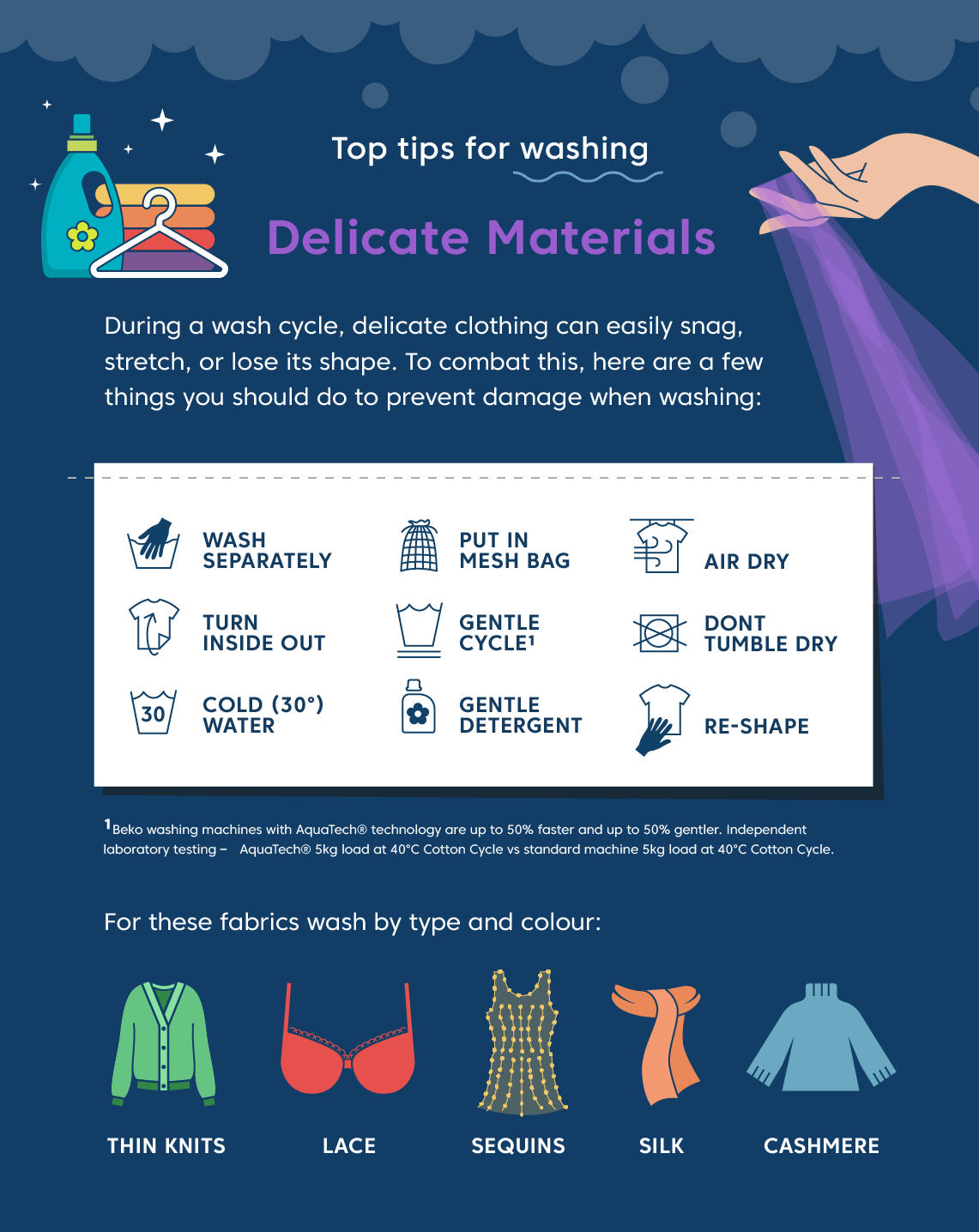 Tips for washing denim
To give your denim the best chance of keeping its colour, it's important to wash your denim correctly. Follow our advice to prevent your denim from fading and snagging:
Turn denim inside out - this stops it from fading and reduces the chances of the dye staining other items in the same wash load.
Do zippers up - ensure the zippers on trousers are pulled up before washing. This will ensure they don't snag other clothes while in the machine.
Skip the detergent – when washing darker coloured jeans, especially black, use half a cup of distilled white vinegar instead of detergent to avoid fading.
Air dry your jeans – Skip the tumble dryer altogether once your jeans are out of the washing machine. Unzip any zippers and unbutton any buttons, then line-dry the jeans, lay them flat, or hang them in an area with good airflow.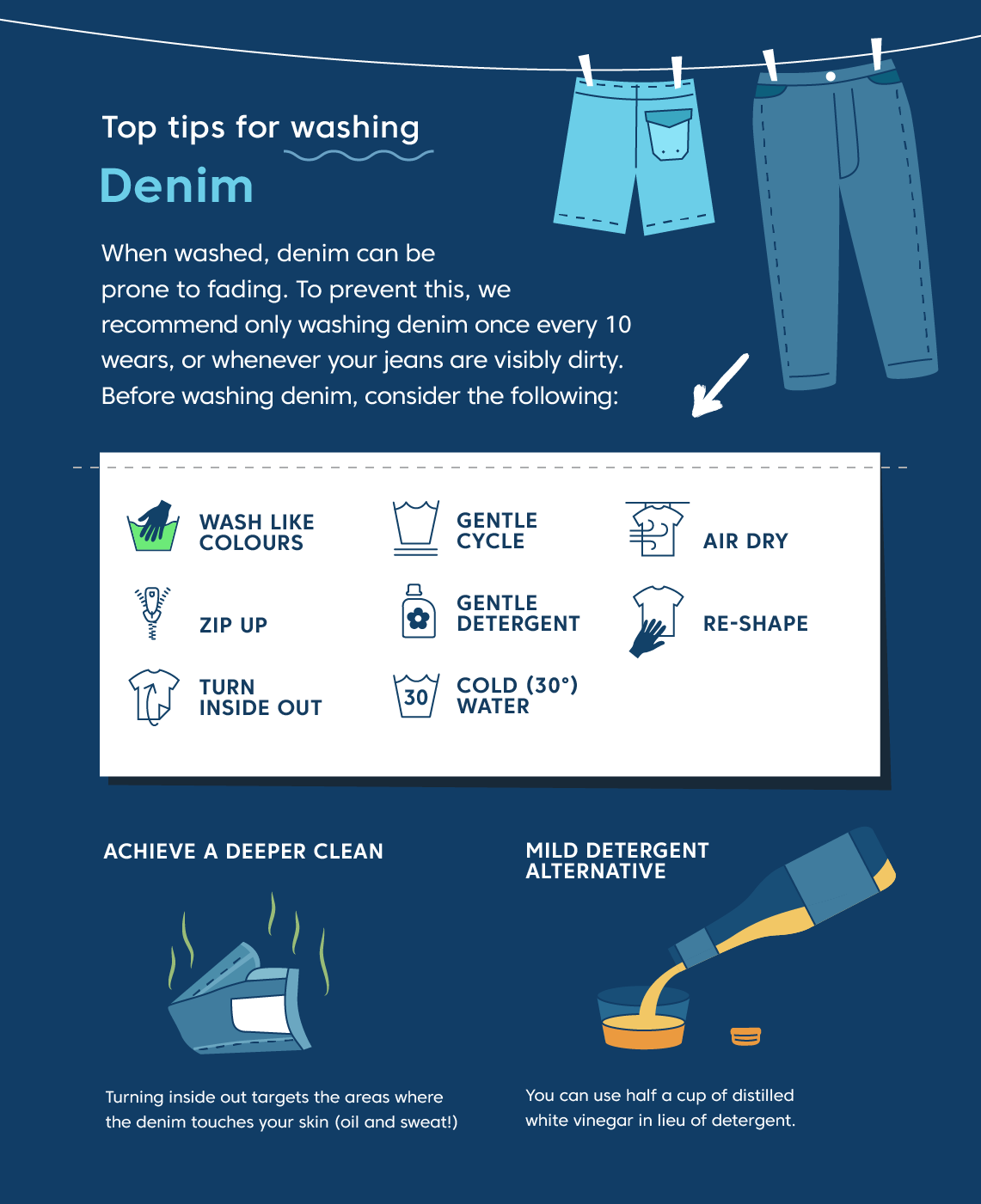 Tips for washing leather
Leather is another material that can quickly lose its quality if washed incorrectly, so make sure to take care and follow our top tips:
Always read the label before washing – this will guide you on what's best for that specific type of leather/pleather.
If you've bought second hand, there may not be a label inside the clothing, so it's always safest to wash at the lowest temperature at a gentle speed.
Patent leather should just be wiped down, avoid putting it in the washing machine at all.
Never put leather clothing in the tumble dryer.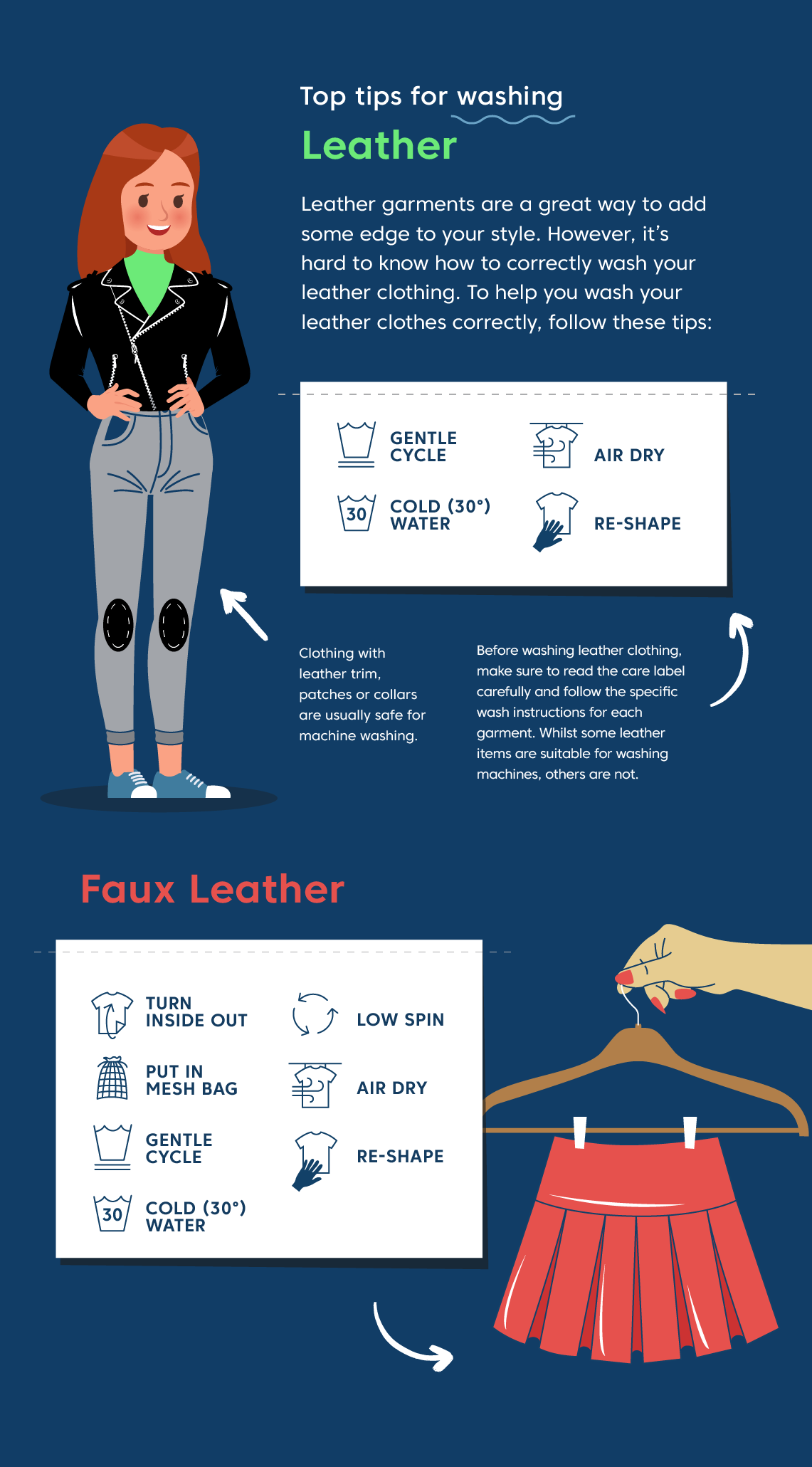 Washing bright colours
Want to keep your colours bold and bright?
Read the label before washing your colours, some may not be suitable for machine washing
Turn inside out to protect from fading as much as possible
To protect your clothes from bleeding and fading, set your wash onto a gentle cycle at a low temperature of around 30°C.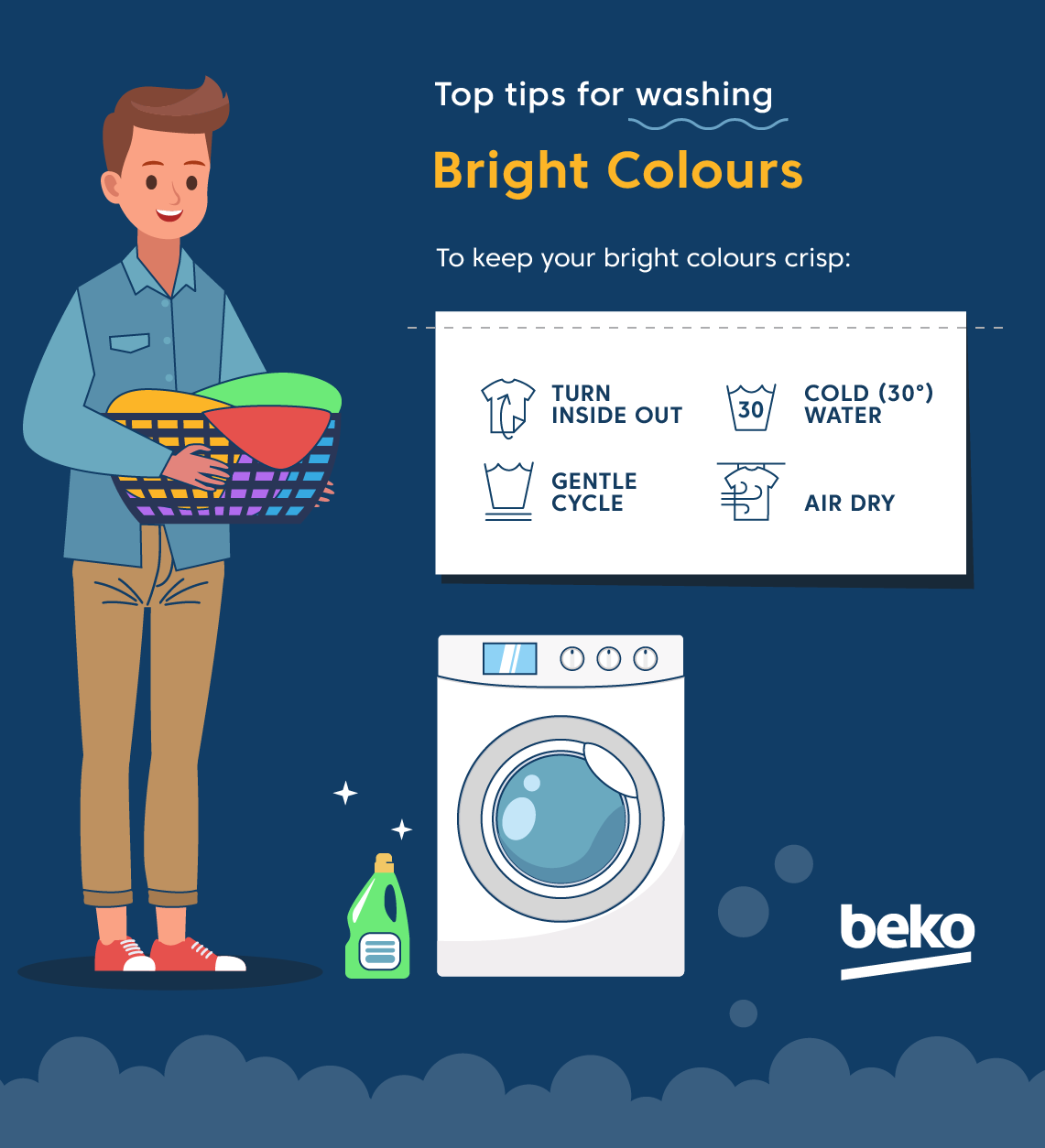 Washing machine habits to adopt
Still a little unsure about how to navigate your washing machine and its different programs? We've outlined some good habits to adopt, to help keep your clothes in a healthy condition.
Use vinegar on sweat stains - Before washing your favourite white shirt, rub a small amount of white vinegar into any dirty areas, such as sweat stains, for a simple yet effective stain remover.
Don't overload the washing machine - When it comes to washing, we tend to want to get as much done in as little time as possible. However, overloading your machine will affect its washing performance and reduce its lifespan. As a general guide, you should be able to fit your whole hand comfortably in the top of the drum once full.
Perform a dye test - If you are worried that a new item of clothing may bleed in the wash, dampen a small area of the material and press a white tissue or clean cloth onto it before washing. If any colour transfers, it's probably a good idea to wash it separately from your other clothes.


If you're looking to upgrade your washing machine, why not explore our complete range of laundry appliances. Equipped with SteamCure technology and an amazingly quick daily programme for everyday clothing, our washing machine are specially designed to cater for your everyday laundry needs. For more information, check out our washing machine buying guide.
Methodology
The trends for spring-summer 2022 were determined via desk research and expert advice. A list of 14 trends were then analysed the relevant hashtags across social media and complied the top 10 based on the highest number of hashtags. The number of hashtag posts is accurate as of 20/02/22.
*Dopamine Dressing refers to the trend encompassing vibrant outfits and colourful palettes.