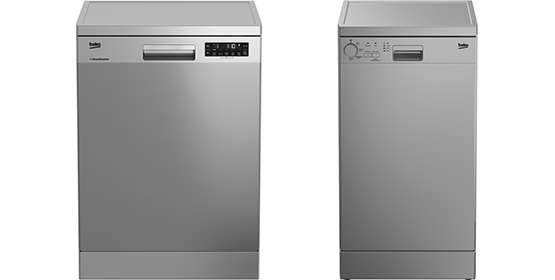 Choosing the right size
Whether you are on the lookout for a full size, freestanding dishwasher or a slimline, integrated model to slot in effortlessly into smaller spaces, Beko has a dishwasher to suit you.
Beko's full size dishwashers have the capacity for up to 13 place settings including dinner plates, soup plates, dessert plates, cups and saucers, tumblers, knives, forks, soup spoons, tea spoons and dessert spoons – perfect if you have a big family or are a keen dinner party host!
Alternatively, if your kitchen is modest in size and you are looking for a sleek dishwasher that takes less space in the kitchen, a slimline model makes a perfect addition to your household. But don't be fooled by the smaller size of these models, Beko slimline dishwashers can handle 10 place settings, and are only 45cm in width – so you won't have to compromise quality and capacity due to restricted space.
Beko has a fantastic range of integrated models which blend seamlessly with the rest of your kitchen cabinets, while freestanding models can be slotted in easily for a hassle-free installation, so whatever your kitchen shape and size, installing a dishwasher is always possible.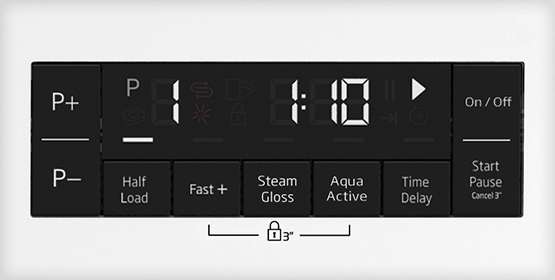 We know that life is busy and that twenty-four hours in a day is not always enough, so a range of Beko models offer a number of different time saving programmes, including the three quick wash programmes – the 30 min cycle for lightly soiled dishes, the 58 min for normally soiled dishes and the new 90 minute programme that delivers a perfect washing and drying performance for normally soiled dishes. Gone are the days when you had to wait hours for clean crockery, so investing in a dishwasher with short programmes can save you time and energy on manually washing up, making your life easier.
Available on some models, Fast+ Function enables variable speed technology to shorten cycles by up to 70% - perfect for busy lifestyles, while other models have a special LED indicator display to let you know exactly how long your wash has left to finish, so you won't have to frequently check to see when your dishes are clean.
Each dishwasher has a removable cutlery basket and folding cup racks for easy loading. Additionally, baskets that are adjustable in height even when they are fully loaded, folding plate supports, and additional cutlery tray at the top that are available in some models all make simple but effective extra storage solutions so you can wash more cups, bigger pans and pots instead of having to wait and run the dishwasher more than once. For those difficult to clean dishes, AquaIntense technology delivers an intensive wash zone, and provides you with perfect cleaning results, so you won't have to wait to re-wash or soak any crockery with stubborn stains or waste time and energy unnecessarily.