Cooking with the Kids
Are you looking for a fun activity for your children to do in their school holidays? Cooking with the kids is a great way to spend some quality time together during the holidays and make something tasty for the family to eat at the same time. That's what we call a win/win.
Try these simple, tasty and quick kid-friendly recipes that our three parenting bloggers like to make with their own children; they're a must for every household!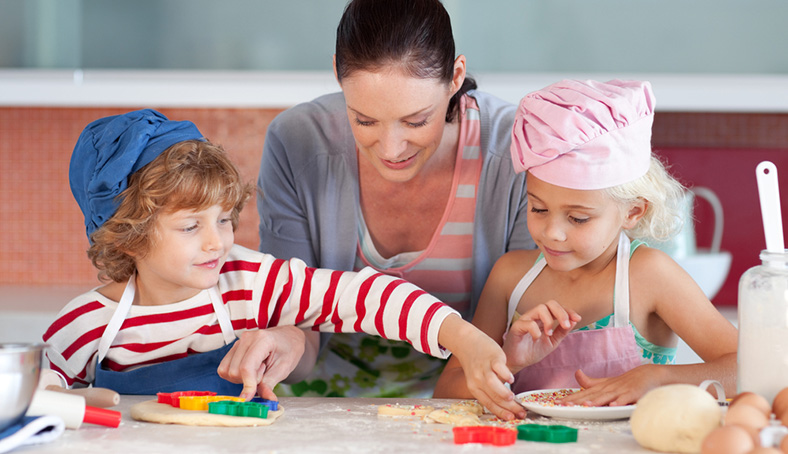 ---
Twice-Baked Stuffed Jacket Potatoes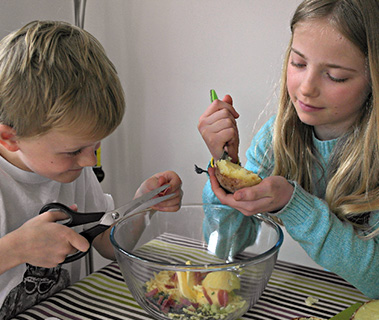 Helen from Actually Mummy has a simple and super-versatile stuffed potato recipe that she likes to cook with her children:
"As an active family, we love nothing better than hanging out on the sofa with some family TV on a Saturday evening, once the football, drama and swimming clubs are finished. I'm always looking for ideas for easy 'TV food' that the kids can eat with their fingers, but that pleases the whole family."
Ingredients: (Serves 4)
4 medium-sized baking potatoes
4 spring onions, sliced
8 rashers of streaky bacon, grilled to a crisp, then chopped
125g cheese, grated (cheddar or other hard cheese that you like)
50ml milk
25g butter
olive oil spray
Instructions:
Scrub the potatoes and remove any eyes.
Sprinkle with salt (this makes the skins nice and crispy) and bake in the oven at 180°C for 1 hour, or until soft inside and well crisped.
Remove from the oven and set aside to cool for 15 minutes.
Cut the potatoes in half and scoop the flesh into a large mixing bowl. Add the butter, milk, onions, bacon and 100g of the cheese. Mash well.
Spray the potato skins with a little olive oil and then refill them with the potato mix.
Sprinkle the remaining cheese over the potatoes and return to the oven, baking for a further 30-40 minutes until golden and crispy.
Serve with salad or crudités, and a dip if you like. We used blue cheese, made by mashing half a St Augur cheese with a 300ml pot of sour cream. For the kids, we might make this with some grated parmesan and a small clove of garlic, crushed.
---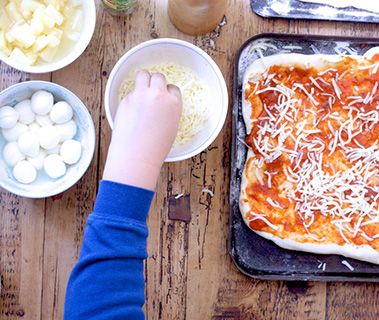 This fail-safe homemade pizza recipe from Katie at Feeding Boys is a great way to get the kids to design their dream pizza:
"Making pizzas with kids is a total win. Not only is it a super fun activity for a playdate that results in you all having made tea, but because they can choose their own toppings they're far less likely to have an 'I don't like ham/mushrooms/sweetcorn' moan."
Ingredients:(Makes 2, serves 4)

For the pizza base:
1 x 500g packet crusty white bread mix
15ml olive oil
quantity of water stated on packet


For the tomato sauce:
1 x 400g tin chopped tomatoes
1 tbsp olive oil
1 tsp dried oregano
pinch of salt and sugar


For the toppings:
sweetcorn, shredded ham, sliced mushrooms, sliced peppers, sunblush tomatoes, olives… whatever you like!
grated mozzarella


Instructions:
Put the bread mix in a large mixing bowl with the olive oil and mix until combined. Then gradually add the required quantity of water until a smooth dough forms. I find this easier in my electric mixer! Don't add all the water at once or it may become too sticky – just add enough until the dough comes together.
Knead for 5 minutes, rest for five minutes and then knead for a further 5 minutes. Again, this is far more relaxing with an electric mixer and frees you up to get on with the tomato sauce…
For the tomato sauce, put all the ingredients into a pan with a pinch of salt and sugar, then bubble on the hob for 10-15 minutes while your dough is kneaded. Remove from the heat and pour into a bowl, so it cools a little.
Pre-heat the oven to 200°C / 180°C fan / gas 6. Flour your work surface and two baking sheets. Take your dough and cut it in half. Roll out and stretch each of them until they fit the baking sheets. Prick over the surface with a fork and then bake in the oven for 5 minutes to firm up a bit.
Take out of oven and then spread each with the tomato sauce, using the back of a spoon or a spatula. Then scatter over your toppings, finishing with an even layer of grated cheese.
Put them back in the top of the oven for 10 minutes until golden and bubbling. Slice and serve with plenty of salad.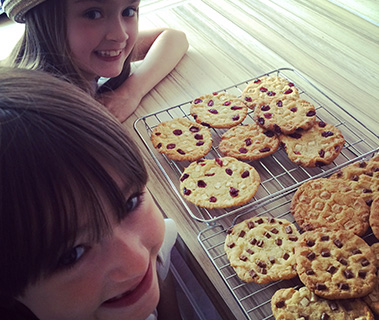 If you and your little ones have a sweet tooth, Sarah from Mostly Yummy Mummy has a simple but effective easy-peasy cookie recipe waiting for you:
"This cookie recipe is one of our absolute favourites. You can handle the dough really quite roughly and they still turn out perfectly every time. So basically it's an ideal recipe to use when baking with kids!"
Ingredients:

150g butter
150g golden caster sugar
200g self-raising flour

1.5 tsp golden syrup
125g toppings (approx.)


Instructions:

Pre-heat oven to 180°C and line large baking sheets with greaseproof paper. (This recipe makes about 12-15 large cookies, so you might need to bake in batches.)
Place the butter in a mixing bowl (preferably already at room temperature) and beat well with a wooden spoon until softened. Add the sugar and cream together until light and fluffy, then add the golden syrup and stir well. The golden syrup really gives these cookies a lovely gooey centre. Yum!
Now add the flour just a tablespoon at a time and stir in well. The dough comes together so much better if you take your time and do this a spoon at a time. When all the flour has been mixed in, it should still be a nice soft dough.
Take a tablespoon and dollop a heap of dough on to the lined baking sheets. They need to be well spaced out as they will expand while they are baking.

Now it's time to add your toppings, pressing them lightly into the mounds of dough. Today we made some with white chocolate and dried cranberries and others with white and milk chocolate chunks. You can add whatever you have to hand of course – dried fruit, chocolate chips, nuts, fudge – anything goes.

Pop them in the pre-heated oven and bake for about 10-15 minutes until they are lovely and golden in colour. Once cooked, remove carefully from the baking sheets using a palette knife and leave on a rack to cool.


Mmmm… That crisp golden edge and that all important chewy centre... They really are utterly yummy cookies!