Fridges That Keep Fruit & Veg Fresh with EverFresh+®
We understand how frustrating it is to buy fresh fruit and vegetables, only for them to go out of date in a few short days. That's why the crisper drawers with EverFresh+® technology in our refrigeration range are specially designed to keep your fruit and vegetables fresher for longer.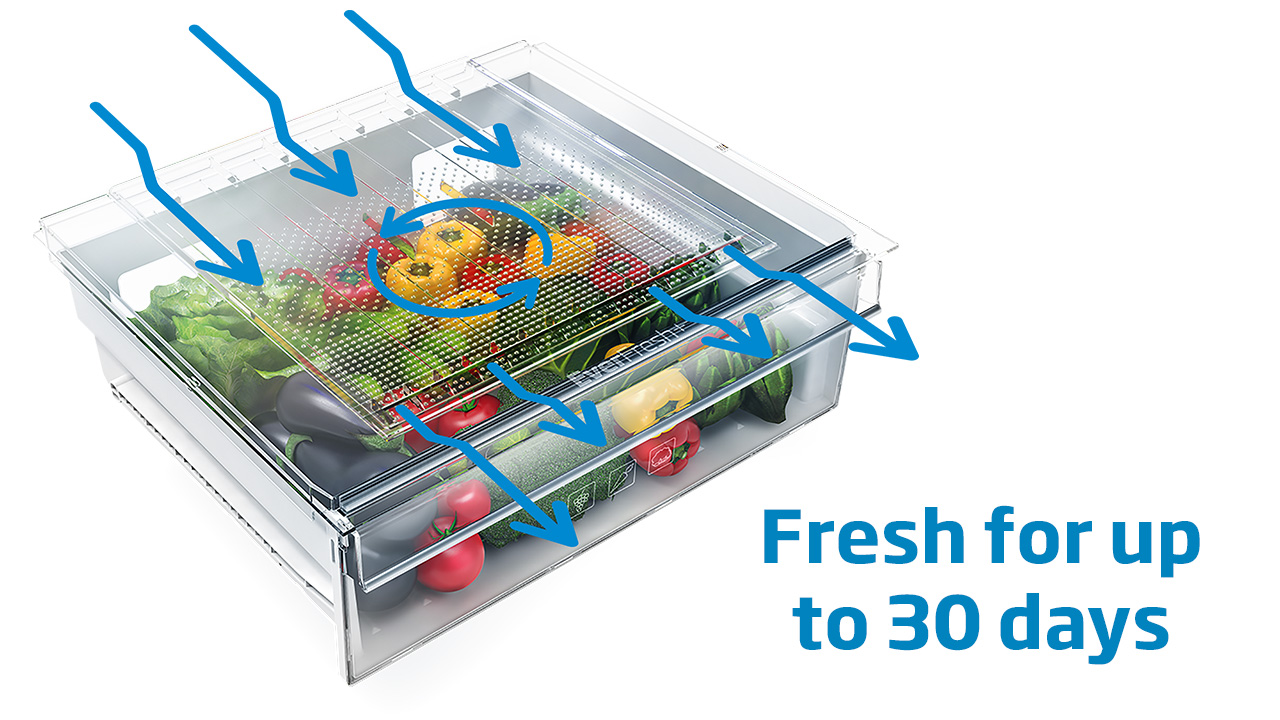 What is EverFresh+® technology?
Our EverFresh+® technology uses a specially designed lattice structure to manage air flow and retain humidity, in the fridge's crisper drawers. This delays the ripening process of your fruit and vegetables, helping them to stay fresher for longer - up to 30 days.
---

"Keeps salad, fruit and veg in excellent condition would say the best we ever had."
Philip from Barnard Castle.(
ASGP342 American Style Fridge Freezer with Plumbed Water and Ice
). Confirmed purchase 20th January 2017
---
What happens to the fruit and veg in a crisper drawer without EverFresh+® technology?
In a standard crisper drawer, fruit and vegetables are stored in an environment to help them stay fresh until they go out of date. This type of crisper drawer is perfect for those who eat their fruit and veg soon after they buy them.
On the other hand, a crisper drawer with EverFresh+® technology keeps your fruit and veg fresh for up to 30 days – great for those who prefer doing fewer and bigger shops and so, would need their fruit and veg to stay fresher for longer.
Why do I need a fridge with an EverFresh+® crisper drawer?
Here are the top three benefits of a fridge with an EverFresh+® crisper drawer:
Reduce food waste – food that stays fresher for longer means you won't be throwing away food that's gone out of date
Save money – less thrown away food means you'll save money overall
Save time – food that stays fresh for longer means fewer trips to the grocery store